Welcome to Verwood Day Nursery, Dorset
We are pleased to present some information on how our nursery is organised, and a taste of the beliefs and philosophy that underlie how we care for children.
"Our primary focus is to provide day care of the highest quality for both local families and those from a wider area…"
Rachel Hanham, Nursery Manager
We hope the information is a useful introduction to our nursery and would be delighted to tell you more.
Verwood Day Nursery Newsletter
View our Latest Newsletter here: Autumn newsletter 2019

Current availability
 The nursery is busy and full of fun and laughter from lots and lots of children and staff.
In our baby and toddler room we currently have places available across the week.
For children aged 2, 3 and 4 years we have limited availability at the moment with more places available from September 2020 onwards. Please call us for more information.
Its never too early to plan your childcare options. Give us a call to arrange a visit to view and book your place at our Outstanding nursery while you still can!
OUTSTANDING AT VERWOOD DAY NURSERY
IN ALL AREAS says Ofsted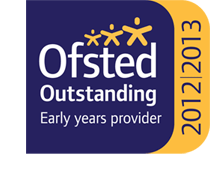 On Tuesday 26th March 2013, Verwood Day Nursery was inspected by education inspectors from Ofsted. The setting is one of only a few in Dorset and the local area to be inspected under the new EYFS regime, introduced in September 2012.
The Ofsted inspector complimentedour nursery with the ultimate recognition in Child Care by Ofsted awarding us 'OUTSTANDING' in all areas because –
To quote from the report:
"Children flourish at the nursery, they thoroughly enjoy their learning and achieve extremely well in relation to their starting points"
"The environment provides children with excellent opportunities to choose their play materials and follow their individual learning styles"
"Children show they feel extremely safe, secure and happy in the nursery and arrangements for safeguarding the children are robust"
"Children benefit hugely from the highly successful partnership between the staff and parents, ensuring key information is shared between them"
"The quality of planning for all the children is excellent; each child receives an exceedingly enjoyable, challenging experience across all areas of learning"
Nursery owner Neil Dowden says "The inspection took place with no notice and we really weren't expecting to see Ofsted for another 2 or 3 years. The inspector found us as we are every day, which is outstanding across the board".
Nursery Manager Rachel Hanham comments "The report really highlights the important role that the staff play within the setting and I want to thank the staff for their contributions and commitment because without them we would not have received this recognition. You can have the best equipment and resources in the world, but it's the staff that make the difference".