School leavers 2018
Once again we been overwhelmed with cards and gifts from this years school leavers. We would love to share some of their comments with you –
Thank you so much for looking after, caring, teaching and guiding E. We have really enjoyed her time here. It is so amazing to see her grow and that's down to all you guys.
I can't thank you all enough for the love and dedication you've shown my daughter. R has grown so much over the last 18 months. Her confidence is through the roof, she is more inquisitive, open minded and only ever so slightly more crazy.
I really don't know how I will ever thank you all for all the love and care you have shown M & F over the last 7 years. You are all truly amazing and exceptional people and will be forever in our hearts.
School leavers 2017
We have been overwhelmed with wonderful gifts and cards this year. Here are some of the lovely comments from our school leavers –
We want to say a heartfelt thank you for looking after S for the past 3 years and making her time at Nursery so much fun and so special. From Deana and her team upstairs when S first started and Mummy probably cried more than S did, to Craig, Rosie, Donna, Jade and everyone else who has really helped S grow into the person she is today. Thank you so much for taking care of our precious daughter.
After 4 years with you looking after my baby we have seen her grow into an independent, more confident person. As the years go by technology, society and education changes but one thing remains constant – the value of a great teacher. We want you all to know how great you all are at your jobs and care for these amazing little people. Thank you for giving K big dreams.
To each and every member of staff at Verwood Day Nursery – from the nursery staff to Colin and Ben.
Each one of you has played a role in making our child feel loved, safe and secure. You have all helped to shape her into a confident, well adjusted, happy little girl and have provided her with the best foundation in life. We thank you from the bottom of our hearts for your kindness, patience and care.
Having someone look after your child I believe is one of the most important things for a parent to decide. Verwood Day Nursery is not only a wonderful setting with amazing fulfilling facilities but you all encourage, entertain, nurture, educate and take care of all the children so well. You have all been so welcoming and friendly, I feel you all go out of your way to please both the children and the parents. One thing that has been a particular highlight is the activities that take place outside of nursery hours, such as the Christmas, Easter and sports day events. We have enjoyed attending pleasant family visits to the nursery.
Summer 2016
Once again some wonderful comments from our school leavers this year –
To everyone at Verwood Day Nursery
Thank you very much for everything you have done for L & C for the past 2 1/2 years. They have both really enjoyed their time with you and will miss you all greatly. It has been a great relief for C & I, knowing they have been cared for as well as they have been while we are in work, and they have looked forward to coming to nursery everyday.
It is evident from the happy, calm atmosphere in all areas of the nursery that you have built positive, caring relationships with all the children where they feel secure, loved and welcomed.
L & C have enjoyed all the various experiences provided and have had an excellent introduction to nursery and school life. Thank you all again we will miss you all!
Dear all at Verwood Day Nursery,
We can not thank you enough for providing R with such a beautiful environment and many fun memories at nursery! You have all been amazing and we are sure R will treasure her nursery days where she has learnt, explored and made friends! You all do such a fantastic job! We will continue to recommend your care to as many parents as possible! Thank you to all of you xx
A big thank you to you all at Verwood Day Nursery for the wonderful care and support you have given L over the past 3 years. Every member of the team works so hard and this is evident in every child, so happy and confident. Your nursery is a very special place and has given L the best start in life which we will always remember. Thank you! L will miss you all so much xx
To all at Verwood Day Nursery,
I cannot thank you all enough for all the care you have given W over the years at Nursery. He is going to miss you all so much. Form the bottom of my heart, thank you.  
To all the team at Verwood Day Nursery,
Thank you so much for looking after and educating M throughout her time spent with you all, she has loved her afternoons especially playing in the orchard and the mud kitchen and helping Ben plant flowers and vegetables. M is going to miss you all but is looking forward to starting big school.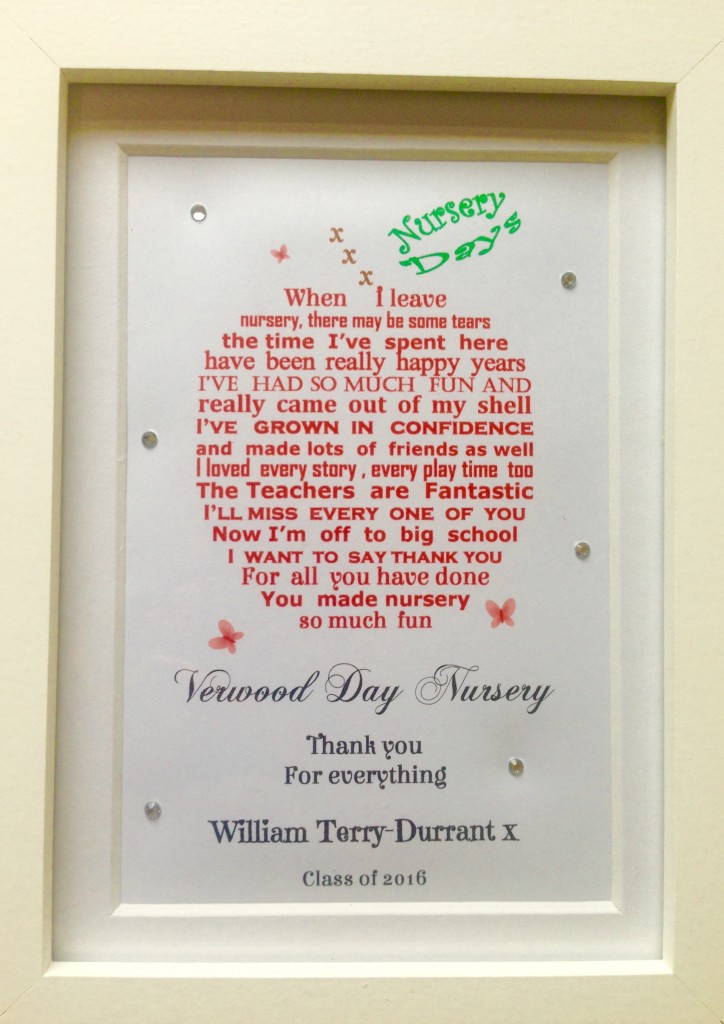 To Rachel and all the team at Verwood Nursery
We would like to say a massive thank you to all of you that have assisted with the wellbeing and educational side of A. Since starting with you, she has changed so much with wanting to learn and come and see you all. She's made lots of new friends as we have both too. I know she is looking forward to starting 'big school' but will also miss Craigy, Jade, Emma and the rest of you. Good luck for the future.
To All
Words cannot express what an amazing team you all are. You all bring something special. O has been very lucky to have had you, as are we. This is not goodbye, but rather until next time and we will see you soon.
To all the lovely staff at Verwood Day Nursery
Thank you so much for looking after me so well over the last 2 years. I have enjoyed every second and will miss you all. You have prepared me so well for school and I can't wait to start!! I'm sure toy feel the same way!! Big thank you once again.
Summer 2015
Some lovely comments from our school leavers –
To all at Verwood Day Nursery,
'I' has thoroughly enjoyed her time with you all at the nursery. Thank you so much for taking great care of her, I can not believe how quickly the time has flown, but she came on leaps and bounds in confidence since attending nursery, so thank you all!
Dear everyone at Verwood Day Nursery,
Thank you so much for your kindness, patience, fun and guidance. I have grown to really love this nursery and will miss you all lots. You have looked after me so well, I will keep great memeories of this year. Thank you.
To everyone at Verwood Day Nursery
Thank you so much for everything you have done for me! Thank you for the cuddles, for wiping my tears, for the smiles, for the fun and games, for putting up with tantrums, for listening to my random chit chat, but most of all, thank you for letting me be me xxxx
Dear Verwood Day Nursery
So …. how to say thank you enough for looking after 'A' for 4 1/2 years? You've been my right arm. You are fantatsiclaly hard workers, never giving up. When he cries, you cuddle him, when he shouts, you put your fingers to your ears, when he laughs, you laugh too. You've helped me teach him to walk, talk, eat, make friends, respect boundaries, try new things, explore his environment. I honestly don't know what we will do without you! Please know you are all AMAZING and have helped me to be the Mummy that I am.
To all the staff at Verwood Day Nursery
A BIG 'Thank you' to you all for being the most fabulous nursery assistants and managers and everything else your role consists of! Without all your care, love and dedication 'M' wouldn't have had such a fantastic time at nursery.
'It takes a big heart to help shape little minds'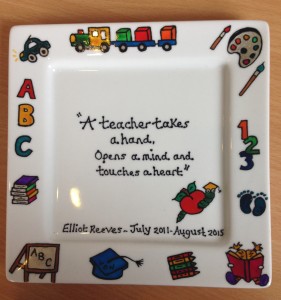 Christmas 2014
Some lovely comments from our parents –
To all the staff at Verwood Day Nursery,
Those upstairs, especially Yeima, Deana, Maisie and Vickie for all your brilliant work with T who always has such a brilliant time and has really developed in your care AND to everyone downstairs especially Donna, Rosie and Craig for making T feel so welcome – he's really looking forward to coming downstairs after Christmas. Also many thanks Rachel and Carole for your hard work (and to anyone else we missed)! Have a wonderful Christmas
To all the staff at Verwood Day Nursery,
But especially the upstairs baies and toddler team (Deana, Vickie, Yeima, Maisie, Lizzie and Laura). Thank you for making the past four months such a fun experience for E and for us!
Thank you too for all the lovely handmade christmas decorations and especially for the lovely book from Father Christmas – a very special touch! We look forward to more fun times with you in 2015.
To everyone at Verwood Day Nursery
Can't thank you enough for everything you all do, you are such an amazing team hope you all have a well deserved rest and a fabulous Christmas.
Following the nativity play we had these lovely comments too –
Just to say thank you to all the staff who created such a fantastic nativity play. We absolutley loved it. It must have taken a massive amount of work but it was worth every minute as it was a delight to watch all the children singing. And we loved the outfits! Brilliant!!
Well done to you and all the staff & children for yesterday's nativity play….it was awesome!!
Summer 2014
Some comments from our school leavers –
I just wanted to say a big thank you for all that you guys have done for G since she started at nursery, from the baby unit to the pre school, we could not be happier with her progress, she has learnt so much and had so much fun, now she is more than ready to go to school thanks to all of the wonderful people who have cared for her and taught her over the last 3 years. From a grown up perspective, I would like to say thank you for always accomodating any last minute desperate requests for child care, for answering silly first time mummy questions I probably should know the answers to and always making me feel confident that I am leaving my little girl with the best possible people. K, T and G
Thank you for providing C with such a fantastic environment, one which is full of care, kindness and fun.C settled in with you so well and it feels like she has been with you for a longer time than she actually has. Each and every day she has been so happy to come to nursery. The B family
Thank you so much for everything you have done for me, from helping me to learn to giving me cuddles when I need one. Oh and thank you for supplying me with endless supplies of paper and pens! Will miss you all so much. Big cuddles and a huge high 5! T M
Thank you so much for looking after me and settling me into nursery so well! I have had such a lovely time here and I have made so many friends and I'm looking forward to my next journey to school! Donna: thanks for playing washing machines with me all those times! You can rest your arms now! Carol: thanks for being "the mummy" of the nursery! Vicky: thank you for all the cuddles and for looking after me so well. I always looked forward to seeing you every time I came in and if you were not there I was really sad! Craig: thank you for settling me in so well and putting up with my constant crying! But you did an amazing job and now I have lots of confidence which is down to you! Thank you so much and I will miss you ALL so much. Lots of love and huggles L
Thank you so much for everything you have all done for L, she's doing really well with everything and you guys have given her an excellent start in life! She has made many friends and has always enjoyed every minute she's been at nursery and I'm really grateful, you all do an amazing job! C
Thank you so much for looking after L for nearly 3 years. All I wanted was for L to be looked after and be safe and happy and you did this amazingly. L was shy and quiet with other children and you helped him overcome this and that's why he's now a happy and confident cheeky little boy now and I couldn't have asked for a better nursery. Also thank you to Phil for his lovely food, don't know how L will cope as he says Phils food is the best! Love L and L
Easter 2014
Thank you for the wonderful morning at Verwood Day Nursery. We had great fun at the Easter Egg Hunt event and as usual all the staff were amazing, friendly and attentive – Verwood Day Nursery you rock!!!
We had a great time at the Easter Egg hunt – thank you. It was good to meet up with other parents and enjoy being outside, there was a really nice atmosphere.
Thank you all for your continued hard work, T is very lucky to have such fab people looking after him. Special thanks for the Easter Egg Hunt – it was a great success and we had a brilliant time.
January 2014
Thank you so much for all the love and development that you put into our son. We appreciate every minute you have devoted to him. Thank you! The W's
August 2013
Thank you very much for looking after me, I have had lots of fun and can't stop telling Mummy and Daddy about all the different activities I do. I will really miss you all and my little pals too. Thank you for helping me enjoy my time so much! Mr and Mrs W and J.
A massive thank you for all that you have done to make E's time at nursery such an enjoyable one. She has flourished during the past year and is now far more confident socially! Thank you! The M's.
Thank you for a fantastic 2 years. You have taken very good care of me and I have had a lovely time. I leave a much more confident and sociable young man and am very ready for 'Big school'. I will miss you all! The M family and L.
Thank you to everyone at the Nursery. H has really enjoyed her time spent here from day one and is sad to be leaving, as she will miss you all. We will be back in the future, as I am sure the other children will have a great experience here too. Its a great place. The F family.
We have been so pleased with the level of care that 'I' has received, she has love every minute and sees everyone as an extended family! Its been a joy to watch her grow and flourish under your care and although we are sad that she's leaving and moving on, she is very much looking forward to 'big school'. The R family
Past comments
I cannot thank you and your team enough for the lovely start you have helped myself and Mike give Abby. Mr Mrs M S
My huge thanks for all the hard work you and your staff put in to providing an excellent level of care and support. Both Katie and now Chloe have absolutely loved attending the nursery and pre-school. Heather F
I would like to take this opportunity to say a huge 'Thank You' to you all for making Alex's time with you such fun, he has enjoyed being part of the nursery, made lots of friends and been able to sample a much wider variety of ideas and activities than he would have if he had been at home for the last (nearly) 4 years !! For ourselves, it has been reassuring to know that Alex is being cared for so well whilst we are working.
Mr & Mrs C
I feel the care Poppy has received has been exceptional over the past 3+ years.From my heart personally, you have given me great support and alsways given me practical advice when I needed it and I am so very grateful to you. I will miss you all ver much. Faye W
Thank you all so much for being truly wonderful with Ella. I will always be grateful to you all for that. Jane H

You are all fantastic! You have given Charlotte a place where she can grow as individual, be independant but also have fun in a loving, caring, friendly and nurturing environment. Thank you for all your hard work Mr & Mrs W
Thank you for giving Holly the best possible care and love over the past 3 years. We couldn't have asked for better childcare. Everyone at Verwood Day Nursery, Thank you for looking after me, I will miss you all. Love Jake. Mr & Mrs G
I feel the care Poppy has received has been exceptional over the past 3 + years. You have always given me practical advice when I needed it. The whole team is great. We will miss you all very much. Mr & Mrs W